The 7th international Workshop on Public-Private Dialogue was held on March 3-6, 2014, in Frankfurt, Germany.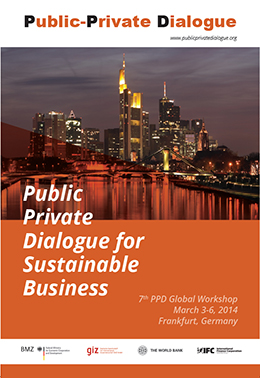 The 7th PPD Global Workshop was attended by 145 participants from 33 different PPD initiatives. Titled "PPD for Sustainable Business", it took stock of recent developments in PPD knowledge and explored how PPD is used to foster inclusive development. Participants discussed around case studies and built their capacity to effectively manage and monitor a PPD process during the PPD life cycle. The workshop lasted 3 days, and included 16 individualized PPD Clinics, plus a fourth "train the traners" day. The Workshop was organized by: Deutsche Gesellschaft für Internationale Zusammenarbeit (GIZ) and the World Bank Institute (WBI) and funded by: The German Federal Ministry for Economic Cooperation and Development (BMZ). Partners included: International Finance Corporation (IFC), Global Partnership for Effective Development and Cooperation (GPEDC).
Below are the presentations, case studies and videos delivered by the presenters. Photos of the workshop participants can be found on the PPD Facebook page.